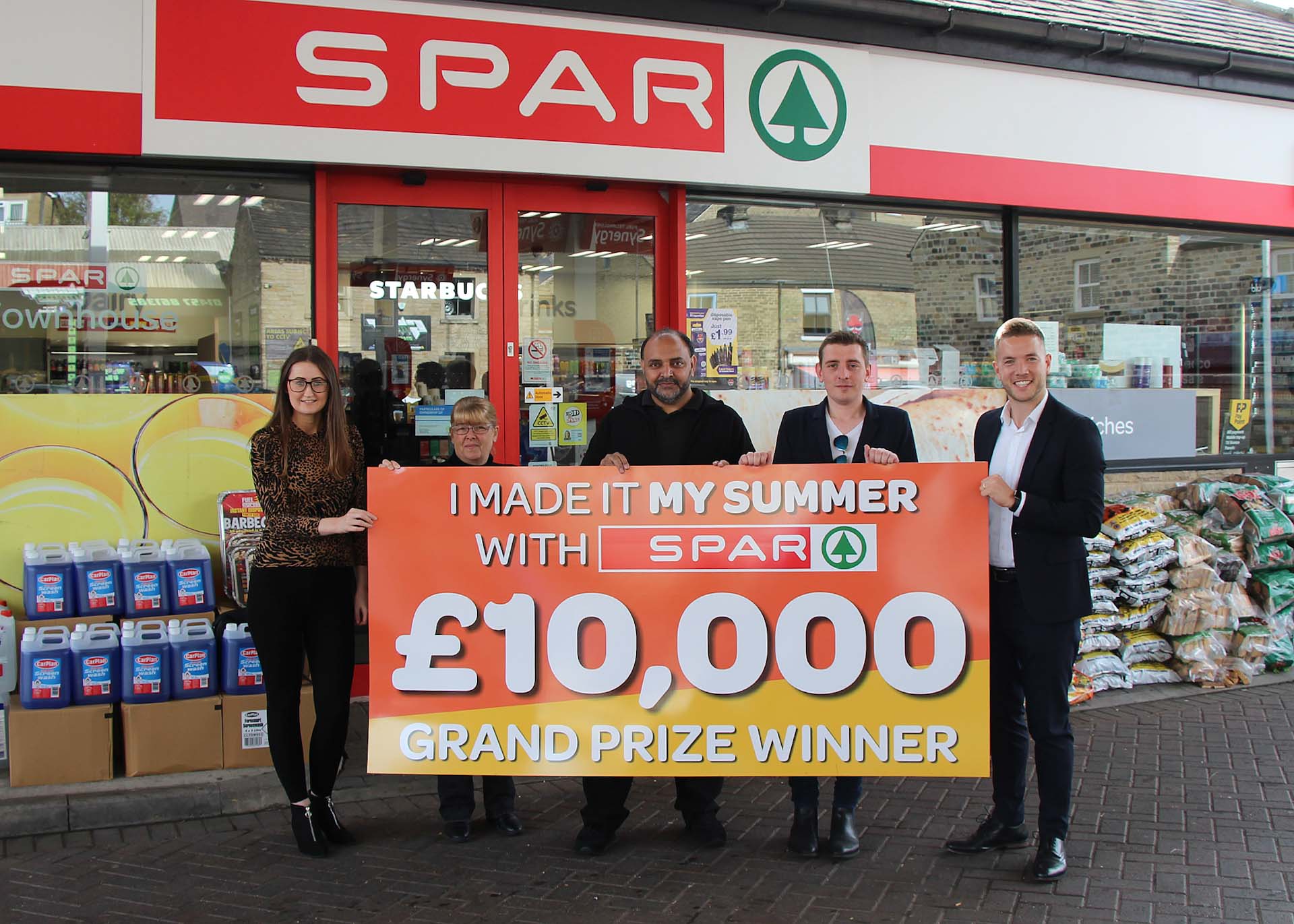 Glossop resident Tom Croft has taken home an amazing £10,000 after being named the top prize winner in SPAR's Make it Your Summer give-away.
Tom says receiving the winning call was a "complete surprise" after a chance entry to the prize give-away during a late night trip to his local Euro Garage SPAR for some essentials.
The 31-year-old retail manager was chosen at random as the grand prize winner from almost 37,000 entrants.
He celebrated the news by treating himself to trip to the cinema, and says he will split the money between items for his home, a holiday for him and his partner, and a large donation to the Glossopdale Foodbank.
Tom said: "My partner took the call to tell me I had won, and I had to ring back because we were both confused and thought it couldn't possibly be me!
"I've never won anything this big before – it was a complete surprise to receive the call!
"I'm going to spend some of it on some household items as we're hosting the family this Christmas for the first time after Covid which will be great. Some of it will also go on holiday after one that we had planned had to be cancelled because of the pandemic.
"I also really want to do a big basket shop for the foodbank in Glossop. It's nice I am in a position to be able to do this. It could be a neighbour who is relying on it so it is good to look out for one another."
The six-week Make It Your Summer prize give-away was run by James Hall & Co. Ltd, the primary wholesaler and distributor for SPAR in the north of England, in the 600 stores it services on behalf of SPAR.
As well as the top £10,000 prize, other major prizes included 55 inch LG televisions, £1,000 holiday vouchers, and in-store money-off tokens. There were almost 35,000 winners over the 42-day period.
Recalling entering the Text to Win initiative, Tom added: "I remember having gone into the SPAR for a few things after I had finished my late shift at work. I go into the SPAR quite regularly as it is useful for convenience items, and all of the staff are lovely.
"I saw in-store about entering, so I thought 'why not'? I never thought it would be me collecting the grand prize though!"
Tom Murphy, Marketing Manager for James Hall & Co. Ltd, said: "Our Make It Your Summer campaign was a chance to reward our loyal SPAR customers across the north of England and I'm delighted that Tom is our grand prize winner.
"The prize give-away has been hugely successful as communities across the north have really taken to it. We saw entries increase by almost 50% and the number of winners more than double from our previous campaign in January.
"It is fantastic that Tom has decided to give something back to his own community in Glossop from the prize money, and we hope he enjoys a few treats from the prize fund himself."
You can find out more information about James Hall & Co. Ltd at www.jameshall.co.uk.