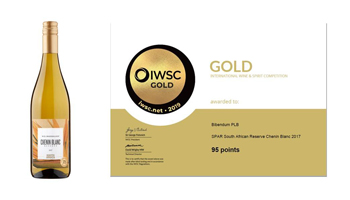 SPAR UK has won its first ever GOLD medal from the IWSC (International Wine and Spirit Competition) for the fantastic SPAR branded, South African Reserve Chenin Blanc.
Priced at only £6.50 it really is a great wine. 
Product information:
SPAR Chenin Blanc Reserve 75cl
Product Code: 826070 
Size: 75CL
Judging & Tasting Notes:
It has an open and clean nose with lemon tart and stewed apples with some fresh citrus zest and yellow apple peal. There's a nice saline minerality on the palate with grapefruit peel. It is creamy with plenty of fruit and with some bees wax. This is an outstanding varietal example with great texture and a lengthy finish.