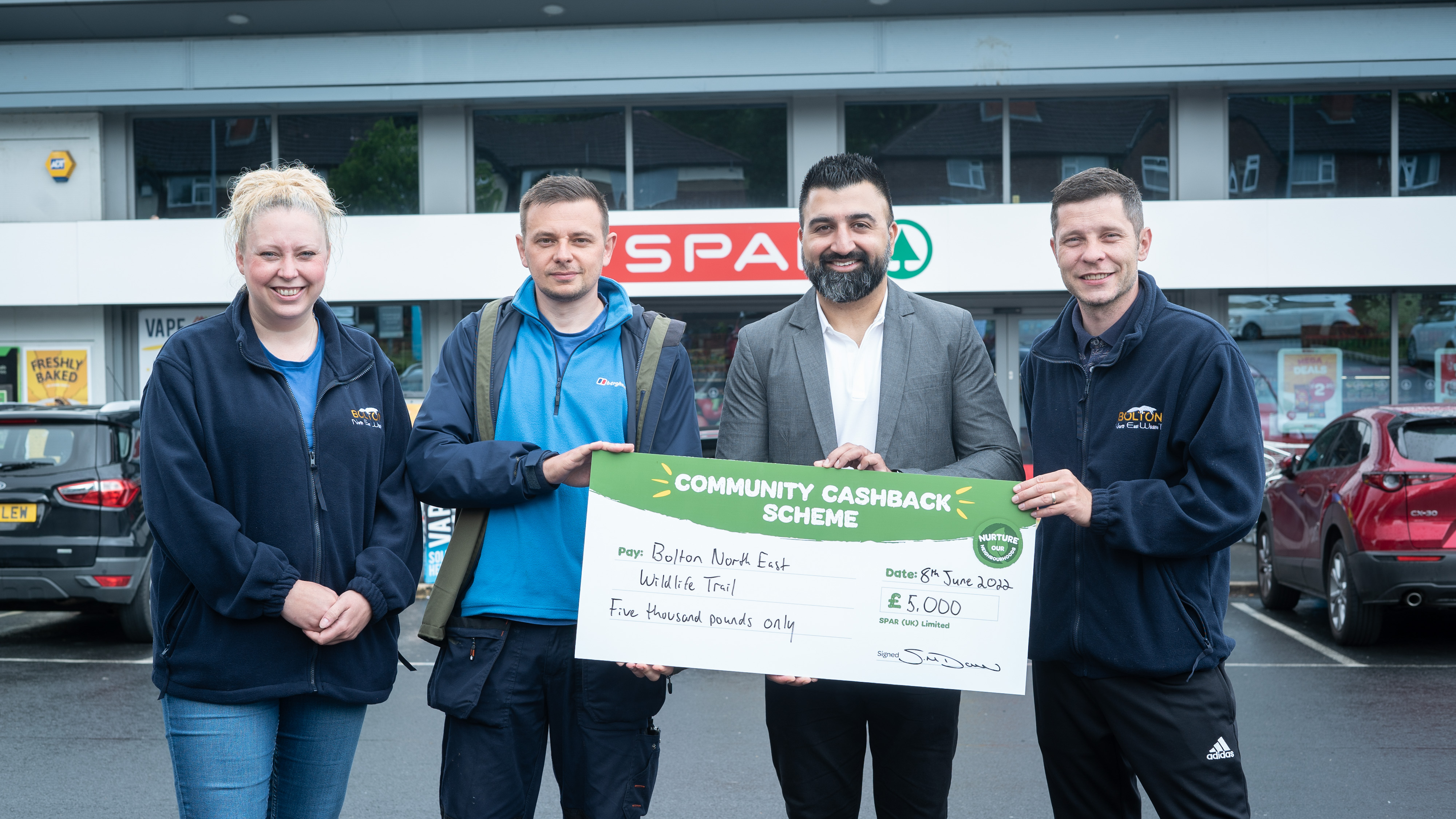 Volunteers from Bolton North East Wildlife Trail have proudly received a £5,000 grant through SPAR UK's Community Cashback initiative.
Based in the Breightmet area of Bolton, the group engages the community in collaboration, improvement and practical conservation of local wildlife, and applied for the Community Cashback scheme after a volunteer visited their local SPAR in New Lane, Breightmet.
Led solely by volunteers, the group known locally as Bolton NEWT has overhauled a previously derelict piece of land into a community hub where food is grown for local people and surplus is donated to food banks.
Another key aspect to the group's work has been five years of restoration of wildlife habitats at Leverhulme Park through tree planting, hedgerow creation, footpath restoration and the development of wildlife meadows.
Four free community events each year are held in the park that connect hundreds of children and their families with nature and wildlife habitats.
Volunteers at Bolton NEWT also annually supporting councillors in creating a Remembrance Day display while raising funds for the Royal British Legion, and in May the group was given the Queen's Award for Voluntary Service.
Launched in April, the Community Cashback initiative offered 30 grant prizes through SPAR stores across the UK with the aim of providing funding to local voluntary or community organisations and charities who need it most.
In the North of England alone, there were almost 1,300 applications for funding, with just six prizes available for the region ranging from £10,000 down to £1,000.
Adele Warren, Treasurer at Bolton North East Wildlife Trail, said: "I've been a volunteer with Bolton NEWT for over four years and I love the people and the conservation work that we do together.
"The SPAR in Breightmet is extremely well used by the community and the fact that SPAR is now supporting our organisation with £5,000 is unbelievable. We're very grateful and it means we can expand the projects we deliver.
"Breightmet has quite a lot of green space and we want to ensure that it is managed and preserved for future generations. The funding will enable us to keep bringing the community together and improving our neighbourhood – it will make such a difference."
The cheque presentation was made to the Bolton North East Wildlife Trail by independent SPAR retailer Baz Jethwa outside his store in New Lane, Bolton.
Tom Murphy, Marketing Manager at James Hall & Co. Ltd, SPAR UK's primary wholesaler and distributor for Northern England, said: "SPAR believes in nurturing our neighbourhoods and supporting the communities we serve. One way we are helping to do this is by giving back to local organisations through our Community Cashback scheme.
"When judging the incredible number of applications we received from across the North of England, I was very impressed with the work Bolton NEWT has done to breathe life into its corner of the town, and also the phenomenal community engagement volunteers have achieved.
"Adding in the group's recent Queen's Award recognition, we are very pleased to grant Bolton NEWT with £5,000 so that they are able to continue growing and having a positive impact on even more members of the Breightmet community."
Five other organisations across the North of England have received grant funding through the Community Cashback initiative. They are Northumbria Blood Bikes, Bury Tandem Club for Blind and Partially Sighted People, The Sensory Spot CIC in Hartlepool, Bacup Pride, and St Cuthbert's Community Gardeners in Catterick.
You can find out more about James Hall & Co. Ltd at www.jameshall.co.uk.