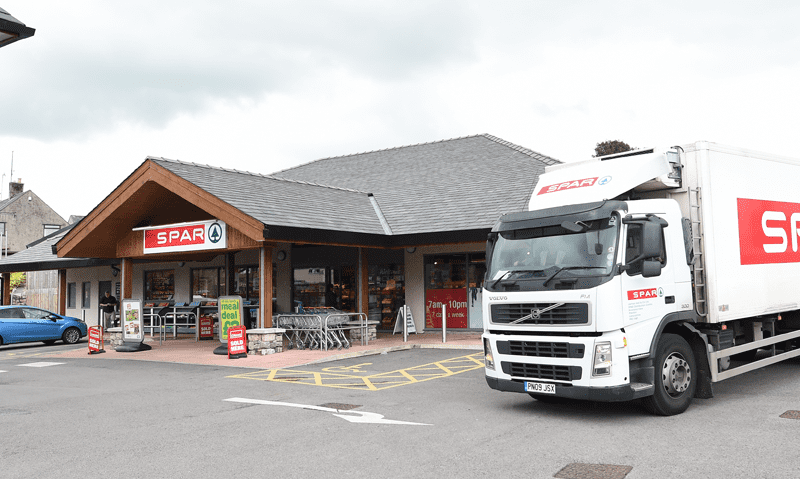 SPAR stores in England are to be the first convenience retailer to partner with Royal Voluntary Service on its NHS Volunteer Responders programme.
Over 750,000 people signed up to be an NHS Volunteer Responder and from this week Community Response Volunteers will be able to shop for the vulnerable person they are supporting at over 700 SPAR stores in England.
The NHS Volunteer Responders programme has been set up to support the NHS and the care sector during the COVID-19 outbreak.
Doctors, nurses, those working in local authorities and other professionals, are able to refer people to NHS Volunteer Responders.  The programme enables volunteers to support the vulnerable person via the GoodSam Responder app.
As this move is a first for convenience retailing, volunteers can then use designated SPAR stores to shop.
SPAR's three wholesalers in England, AF Blakemore & Son, Appleby Westward and James Hall & Co, have activated this service in the majority of company owned SPAR stores and within a number of independent SPAR stores.
Louise Hoste, SPAR UK Managing Director, said: "We are very happy to partner with the RVS at this crucial time when they are coordinating the NHS Volunteer Responders programme. SPAR stores around the UK are doing all they can to support their local communities and this programme is another way in which we can help. Using their ID, volunteers on the programme are able to take the shopping list from a vulnerable person to a participating SPAR store, and know they can shop and pay. We hope to see the number of SPAR stores in England participating in this to increase and thousands of vulnerable people benefiting from this service."
Sam Ward, Director of Services and Deputy CEO of Royal Voluntary Service, said: "We are incredibly grateful to SPAR stores for adjusting their systems to enable our volunteers to shop for vulnerable people in their community.  Many people will rely on shopping support from our NHS Volunteer Responders and this payment solution will work well for our volunteers."
Confirmed SPAR stores across the north of England (James Hall & Co.'s company owned stores division, G&E Murgatroyd):
| | | |
| --- | --- | --- |
| GEM Acklam Road | 275a Acklam Road, Middlesbrough. | TS5 7BP |
| GEM Appleby | Westmoreland House, 8 Boroughgate, Appleby, Cumbria. | CA16 6XB |
| GEM Armthorpe | 49 Doncaster Road, Armthorpe, Doncaster. | DN3 2BU |
| GEM Aspatria | 16/16A Queen Street, Aspatria, Wigton, Cumbria. | CA7 3AR |
| GEM Barrowford | Unit 3-6, 80 Gisburn Rd, Barrowford | BB9 6DT |
| GEM Bentham | Main Street, Bentham, Lancaster. | LA2 7HJ |
| GEM Billingham | High Grange Avenue, Billingham, Stockton-on-tees. | TS23 3XR |
| GEM Birkdale | 23 Liverpool Road, Birkdale, Southport, Merseyside. | PR8 4AG |
| GEM Bispham Road | 223 Bispham Road, Bispham, Blackpool. | FY2 0NG |
| GEM Blackbrook | 2 Harrier Road, Blackbrook, Padgate, Warrington | WA2 0WN |
| GEM Blakelaw | 30 Moulton Court, Blakelaw, Newcastle upon Tyne.  | NE5 3RS |
| GEM Boroughbridge | 37 High Street, Boroughbridge. | YO51 9AW |
| GEM Bramley | 154 Outgang Lane, Bramley, Leeds | LS13 2QY |
| GEM Brampton | Highland House, Main Street, Brampton, Cumbria. | CA8 1SB |
| GEM Brockfield Park | 52-54 Brockfield Park Drive, York. | YO31 9ER |
| GEM Burnley | 520 Brunshaw Road, Pike Hill, Burnley, Lancs. | BB10 3JU |
| GEM Burrowgate | 36/40 Burrowgate, Penrith, Cumbria. | CA11 7TA |
| GEM Cadley | 118 Woodplumpton Road, Cadley, Preston, Lancs. | PR2 2LP |
| GEM Cambridge Road | 115 Cambridge Road, Churchtown, Southport, Merseyside. | PR9 9SB |
| GEM Catterick | 1-2 Hildyard Row, Catterick, N Yorks.  | DL9 4DH |
| GEM Cheadle | Councillor Lane, Cheadle, Cheshire. | SK8 2JE |
| GEM Chester Road | 161-165a Chester Road, Sunderland. | SR4 7HS |
| GEM Connahs Quay | 1 Golftyn Lane, Connahs Quay, Flintshire. | CH5 4BH |
| GEM Davenport | 209, Bramhall Lane, Stockport, Cheshire. | SK2 6JD |
| GEM Ditchfield Rd | Ditchfield Road, Widnes, Merseyside | WA8 8RF |
| GEM Falsgrave Road | 97-107 Falsgrave Road, Scarborough. | YO12 5EG |
| GEM Filey | 3 Murray Street, Filey, Yorkshire. | YO14 9DA |
| GEM Fulwood | 1 Black Bull Lane, Fulwood, Preston, Lancs. | PR2 3PT |
| GEM Handforth | 118 Wilmslow Road, Handforth, Cheshire. | SK9 3LQ |
| GEM Harington Road | 56 Harington Road, Formby, Merseyside. | L37 1NV |
| GEM Hartlepool | Unit 1, The Powlett, Powlett Road, Hartlepool. | TS24 8NA |
| GEM Haworth | Station Road, Haworth, Nr. Keighley, West Yorks. | BD22 8NJ |
| GEM Hazel Grove | 77-87 Arundel Avenue, Hazel Grove, Stockport | SK7 5LD |
| GEM High Park | 1-3 High Park Place, Churchtown, Southport. | PR9 7QP |
| GEM Huntington Road | Turner Close, York, Yorkshire. | YO31 9FD |
| GEM Hutton Cranswick | 41 Main Street, Hutton Cranswick, Driffield, Yorkshire | YO25 9QN |
| GEM Hutton Way | 12 Hutton Way, Carlisle, Cumbria. | CA2 7TH |
| GEM Kirkbymoorside | 22 Market Place, Kirkbymoorside, North Yorkshire. | YO62 6DA |
| GEM Kitt Green | 228 City Road, Kitt Green, Wigan, Lancs. | WN5 0BG |
| GEM Lamb Street | 36 Lamb Street, Upperby, Carlisle. | CA2 4NF |
| GEM Lanchester | 10 Front Street, Lanchester, Co. Durham. | DH7 0ER |
| GEM Leeds Road | 351-357 Leeds Road, Nelson, Lancs. | BB9 8RP |
| GEM Leigh | 262, Firs Lane, Leigh, Lancs. | WN7 4TT |
| GEM Leyland Lane | 343 Leyland Lane, Leyland, Lancs. | PR25 1UP |
| GEM Litherland | 14 Sefton Road, Litherland, Liverpool | L21 7PG |
| GEM Longtown | Netherby Street, Longtown, Cumbria. | CA6 5SA |
| GEM Lowther Street | 133 Lowther Street, York | YO31 7NA |
| GEM Market Place | 28 Market Place, Brampton, Cumbria. | CA8 1RL |
| GEM Middleton | 62-64 Stanicliffe Road, Middleton, Manchester. | M24 2NU |
| GEM Monkseaton | Corner House, Front St, Monkseaton, Whitley Bay. | NE25 8AQ |
| GEM New Middleton | 231 Hollins Lane, Middleton, Manchester | M24 5LU |
| GEM New Sedbergh | Station Road, Sedbergh, Cumbria. | LA10 5DL |
| GEM Newton-le-Willows | 105 High Street, Newton-le-Willows, Merseyside | WA12 9SL |
| GEM Newtown Road | 63/69 Newtown Road, Carlisle, Cumbria. | CA2 7JB |
| GEM North Seaton | 2-4 Meadowfield, North Seaton, Ashington. | NE63 9TR |
| GEM Nunthorpe | 99 Guisborough Road, Nunthorpe, Middlesbrough. | TS7 OJS |
| GEM Old Hall | Frobisher Court, Old Hall, Warrington | WA5 9PQ |
| GEM Padiham Road | 468-470 Padiham Road, Burnley. | BB12 6TD |
| GEM Penketh | 1-2 Honiton Way, Penketh, Warrington | WA5 2EY |
| GEM Petteril Bank | 10/12 Petteril Bank Road, Harraby, Carlisle. | CA1 3AH |
| GEM Poulton | 90/94 Garstang Road East, Poulton-le-Fylde, Lancs. | FY6 7EP |
| GEM Prescot Rd | 305 Prescot Road, St Helens, Merseyside | WA10 3HG |
| GEM Preston Brook | 2 Bridgewater Grange, Preston Brook, Runcorn, Cheshire | WA7 3AL |
| GEM Sandringham Road | 3/5 Sandringham Road, Walton-le-dale, Preston. | PR5 4QN |
| GEM Scawthorpe | 151 Petersgate, Scawthorpe, Doncaster, S Yorks. | DN5 9JW |
| GEM Seaton Carew | 50 Elizabeth Way, Seaton Carew, Hartlepool, Cleveland. | TS25 2AX |
| GEM Shiremoor | 28 Park Lane, Shiremoor, Tyne & Wear. | NE27 OTH |
| GEM Silloth | Solway Street, Silloth, Cumbria | CA7 4AR |
| GEM Sleights | 83 Coach Road, Sleights, Whitby, North Yorks. | YO22 5EH |
| GEM Todmorden Road | 113 Todmorden Road, Burnley, Lancs. | BB11 3EX |
| GEM Trimdon Ave | 128 Trimdon Avenue, Acklam, Middlesbrough, Cleveland. | TS5 8SB |
| GEM West Auckland | Station Road, West Auckland, Bishop Auckland. | DL14 9HA |
| GEM Whalley | 9 George Street, Whalley, Clitheroe, Lancs. | BB7 9TH |
| GEM Whitefield | Unit 5, Ribble Drive, Whitefield, Greater Manchester. | M45 8NE |
| GEM Whitehaven | Richmond Hill Road, Hensingham, Whitehaven, Cumbria. | CA28 8SU |
| GEM Wigton | 40 King Street, Wigton, Cumbria.  | CA7 9EJ |
| GEM Willaston | 12 Neston Road, Willaston, Wirral. | CH64 2TQ |
| GEM Wincham | Linnards Lane, Wincham, Northwich, Cheshire. | CW9 6ED |
| GEM Wolsingham | 2 Market Place, Wolsingham, Bishop Auckland. | DL13 3AF |
| GEM Workington | 128 Westfield Drive, Workington, Cumbria. | CA14 3RW |
Confirmed stores with North East Convenience Stores:
North East Convenience Stores
Store Name
Address
Telephone
Blyth
19 Brierley Road, Blyth,
Northumberland
NE24 5PP
01670 362 322
Howdon
Tynemouth Road, Howdon,
Wallsend NE28 OEA
0191 2634682
Shields
4–6 Lord Street, South Shields,
Tyne & Wear NE33 3DB
0191 4271487
Wrekenton
161–163 High Street, Wrekenton,
Gateshead NE9 7JR
0191 4875709
Stanley
194-200 Park Road, Southmoor,
Stanley, County Durham
DH9 7AL
01207 281226
Shotton
The Willows, Salters Lane, Shotton,
Nr Peterlee, County Durham DH6 2PT
0191 5268801
Oxford Rd
147-149 Oxford Road
Hartlepool TS25 5NH
01429 868077
Kenton
37-39 Halewood Avenue, Kenton
Newcastle Upon Tyne
NE3 3RX
0191 2140581
Grindon
88 The Broadway
Grindon, Sunderland
SR4 8NS
0191 522 6069
Sheriff
26-28 Sheriff's Highway, Gateshead,
Tyne & Wear NE9 5UE
0191 4872224
Gosforth
83a Salters Road, Gosforth,
Newcastle Upon Tyne
NE3 1DU
0191 2853880
Eston
139 High St, Eston,
Middlesbrough TS6 9JD
01642 453663
Catcote
64 – 68 Catcote Road,
Hartlepool
TS25 4HG
01429 890096
Owton
228/234 Owton Manor Lane,
Hartlepool
 TS25 3QD
01429 223187
Kings
83 King Oswy Drive,
Hartlepool TS24 9PS
01429 869968
Wynyard
47/49 Wynyard Road,
Hartlepool TS25 2LB
01429 867457
Norton
64-66 Leven Road,
Norton
TS20 1DP
01642 554060
Thornaby
Lanehouse Road,
Thornaby TS17 8ED
01642 671845
Fenham
271-291 Two Ball Lonnen, Fenham,
Newcastle Upon Tyne
NE4 9RX
0191 2741211
Hardwick
High Newham Road,
Stockton on Tees
TS19 8JZ
01642 615691
Marton
14 Stokesley Road, Marton,
Middlesbrough
TS7 8DX
01642 317028
BB Longbenton
2 The Boulevard
West Park Avenue
Longbenton
NE12 8GA
0191 2700329
BB Shields
257 Prince Edward Road,
South Shields, Tyne & Wear
NE34 7LZ
0191 4565827
Hylton Rd
165-167 Hylton Road,
Sunderland SR4 7YF
0191 5670198
Torrens
1 The Torrens, North Hylton Road,
Sunderland SR5 3TU
0191 5484289
Shildon
Unit 1,
Jubilee Road,
Shildon DL4 2AL
01388 777739
Saltburn
Windsor Road,
Saltburn
TS12 1BD
01287 624711
Kelloe
Front Street, Kelloe,
County Durham DH6 4PD
0191 3779849
Seaton Burn
Bridge Street,
Seaton Burn NE13 6EN
0191 236 7192