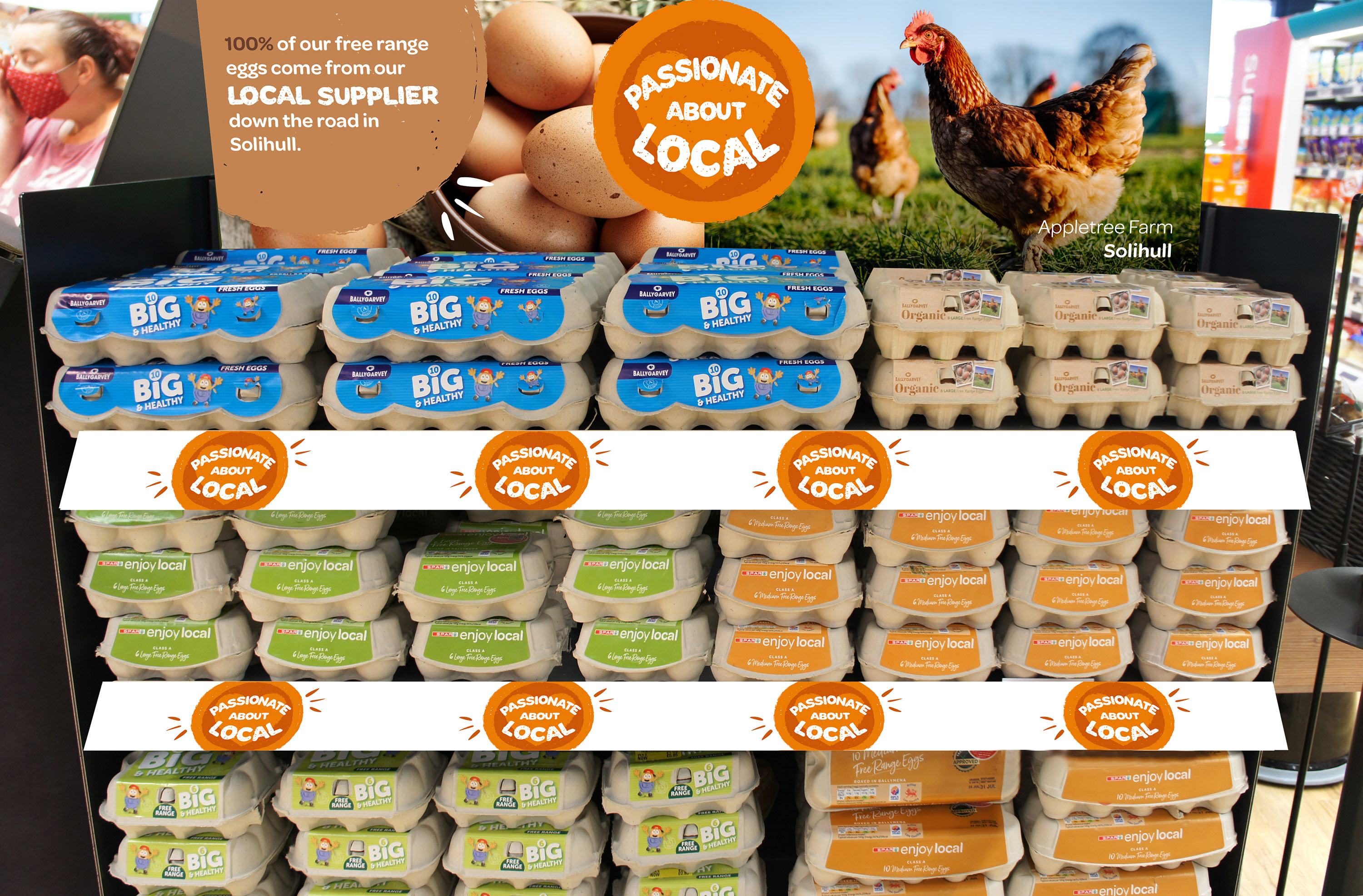 Building on its growth story over the last 12 months, leading symbol group SPAR, will showcase what makes SPAR unique and launch a new brand positioning live in UK stores and on its digital communication channels from January 2022.
The new brand positioning is called 'The Joy Of Living Locally'.
Suzanne Dover, SPAR UK Brand & Marketing Director, said: "In 2020, we looked at our brand to understand what it really meant to our customers. Concurrently we were in the middle of the pandemic where our stores were there for communities at a time when they needed us most. Customers started using their local SPAR store more than ever and we welcomed new shoppers too, all appreciating the local convenience, availability of a product range that met their needs with friendly service. As a result, 'The Joy Of Living Locally' brand positioning was born.
"A unique characteristic of SPAR in the UK is that no two stores are the same. Different retailers have different distribution partners and all are underpinned by a core commonality – national SPAR own label products, marketing, communications, promotions and store formats. This enables our independent retailers to build on an established and consistent framework and core proposition, while ensuring they can continue to exercise their entrepreneurial skill in their stores. This national commonality, combined with our ability to change our store propositions to meet the needs of our local consumers, gives us the credibility to celebrate the positives of diverse communities.
"We saw that we needed to showcase what makes SPAR unique and the meaning behind 'There for you'. This is what our customers want to hear from us and this is what we are going to deliver in store.
"The Joy Of Living Locally' sums up the whole SPAR philosophy. It is the essence of our brand distilled to just five words. But there is a lot of important meaning packed into those words. When we say, 'The Joy Of Living Locally', we are talking about our passion for the local area where we live and work, the local customers we meet every day, the local suppliers we work with, and the local charities and organisations we support. Where others see customers, SPAR retailers see a neighbour, which is why we go above and beyond to ensure each community we serve is well served and why SPAR is 'There for you' now and always."
SPAR is using three new and distinct pillars to bring the positioning to life for shoppers, making it meaningful and motivating and also helping shoppers see how SPAR is different to other convenience retailers:
Value on your doorstep
Nurturing our neighbourhoods
Passionate about local
"Our research shows these pillars help shoppers understand and appreciate 'The Joy Of Living Locally' with all of our different activities and initiatives. We will use these pillars to help categorise and explain all our work from now on," added Dover.
SPAR is using a graphic hook that creatively connects the new positioning back to the SPAR fir tree logo. Each pillar will have its own distinctive creative badge, which will also be incorporated into future store designs and across all marketing collateral. These pillars will communicate to shoppers how SPAR is adding value through promotional activity or everyday pricing, nurturing neighbourhoods by employing people from local communities, supporting local causes and charities and celebrating neighbourliness, and passionate about showcasing local food and producers. The pillars can work individually or can be brought together to ladder up to a bigger message.
A new bespoke typeface, representing the spirit and 'The Joy Of Living Locally', called 'SPAR scribble', will be used in-store and on all communications, together with an expanded, distinctive and complementary colour palette to the existing SPAR corporate colours of green, red and white.
All five SPAR wholesalers are sharing the new positioning and creative expression with independent retailers and company owned stores. Brand guidelines and a retailer toolkit have been produced to aid with execution.
Dover concluded: "We have taken 'The Joy Of Living Locally' into research and customers love the new creative, saying that it is a significant step forward for SPAR the brand in the UK. Consumers felt it was modern and progressive and transforms us into more of a modern mini supermarket.
"Consumers have rapidly reassessed how they use convenience stores over the past 18 months and they have told us that when we put the needs of the community at the heart of our offer, it is very motivating for them."
The new look will launch in SPAR stores in January 2022 with the 'value on our doorstep' pillar. The rebranding will be supported across all marketing collateral, including SPAR digital communications and through a large scale PR campaign.
SPAR is working with multi award winning advertising agency Genesis in Belfast on the new rebranding.