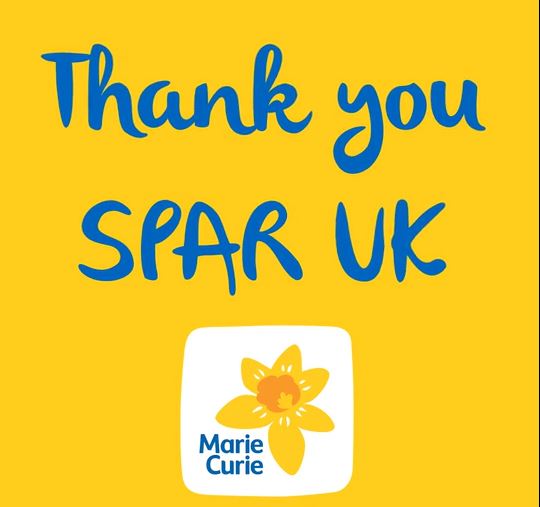 Marie Curie is delighted to announce that its valued supporter, SPAR UK, has now raised an incredible £1.5 million for families living with terminal illness.
SPAR, the leading convenience store group in the UK, chose Marie Curie as its national charity partner in 2017 and in that time SPAR stores have raised a staggering £1.5 million for the charity.
Thanks to the fundraising efforts from independently owned SPAR stores around the UK, 80,000 hours of nursing care or almost 9,000 nursing shifts where patients and families have been given expert care and support has been granted thanks to SPAR's incredible generosity.
Tom Heron, Senior Partnership Manager at Marie Curie, said: 'Marie Curie would like to thank each and every one of SPAR's staff for their dedication and support to help make a real difference to families living with terminal illness. Now more than ever, people need Marie Curie nurses to be there for them. Thanks to SPAR's unbelievable support, Marie Curie has been able to have a nurse by someone's side for 80,000 hours. It is a phenomenal achievement and we really cannot thank SPAR UK enough."
Marie Curie has made an online video https://vimeo.com/420331479/450da5ce62 thanking SPAR for their efforts. Key fundraising highlights in support of Marie Curie's campaigns include the annual Great Daffodil Appeal, the Blooming Great Tea Party and product donations through in-store promotions.
Challenge events are a key part of the fundraising activity plan at Marie Curie and SPAR staff have been incredible in getting involved with events across the country. From CJ Lang's annual Ben Nevis trek, to Appleby Westward's Padstow-to-Rock swim, SPAR colleagues have been unbelievably brave in what they have taken on.
In addition to raising vital funds, SPAR also responded to coronavirus pandemic and the logistical maze the charity was facing in distributing PPE to its Nurses. In the South West, Marie Curie Nurses are able to collect essential PPE from their local SPAR convenience store and continue caring for dying people and their loved ones during this unprecedented time.
Other activities include hospice donations where SPAR wholesalers regularly donate care items to Marie Curie's nine hospices. Stock drives have also been run in a number of SPAR offices to keep clothes and other items flowing to Marie Curie charity shops.
Finally SPAR colleagues have created a very large amount of themed fundraisers over the years around Resolution Revolution, Halloween, Christmas and Easter.
Alex Hall, Digital Marketing Manager at SPAR UK, said: "During the pandemic SPAR stores have supported NHS staff and vulnerable people in the community by donating personal care products and foodstuffs to banks and hospitals nationwide.  In addition, we are very aware of the caring work Marie Curie nurses have been doing to support the NHS and the vulnerable during this challenging time. We are proud to support our national charity partner Marie Curie and will continue to do as much as we can to promote the amazing work their nurses do to help families living with terminal illness."