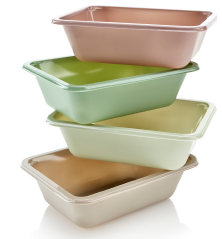 SPAR are continuing to review their current sustainability practises, with the latest focus on removing black plastic trays from SPAR branded hot desserts.
Part of SPAR's commitment to reduce plastic and minimise the brand's environmental impact, SPAR hot desserts will now be packaged in a recyclable tray made from 80% recycled material. Due to the nature of this material; the colour of each tray will vary between a range of pastel shades.
SPAR hot desserts will be available in these recyclable trays from the 1st November 2019 and will meet customer demands for environmentally sustainable packaging and prevent 2,49 tonnes of black plastic going to landfill to each year.   
The desserts included within this change will be SPAR Apple Crumble and SPAR Syrup Sponge.