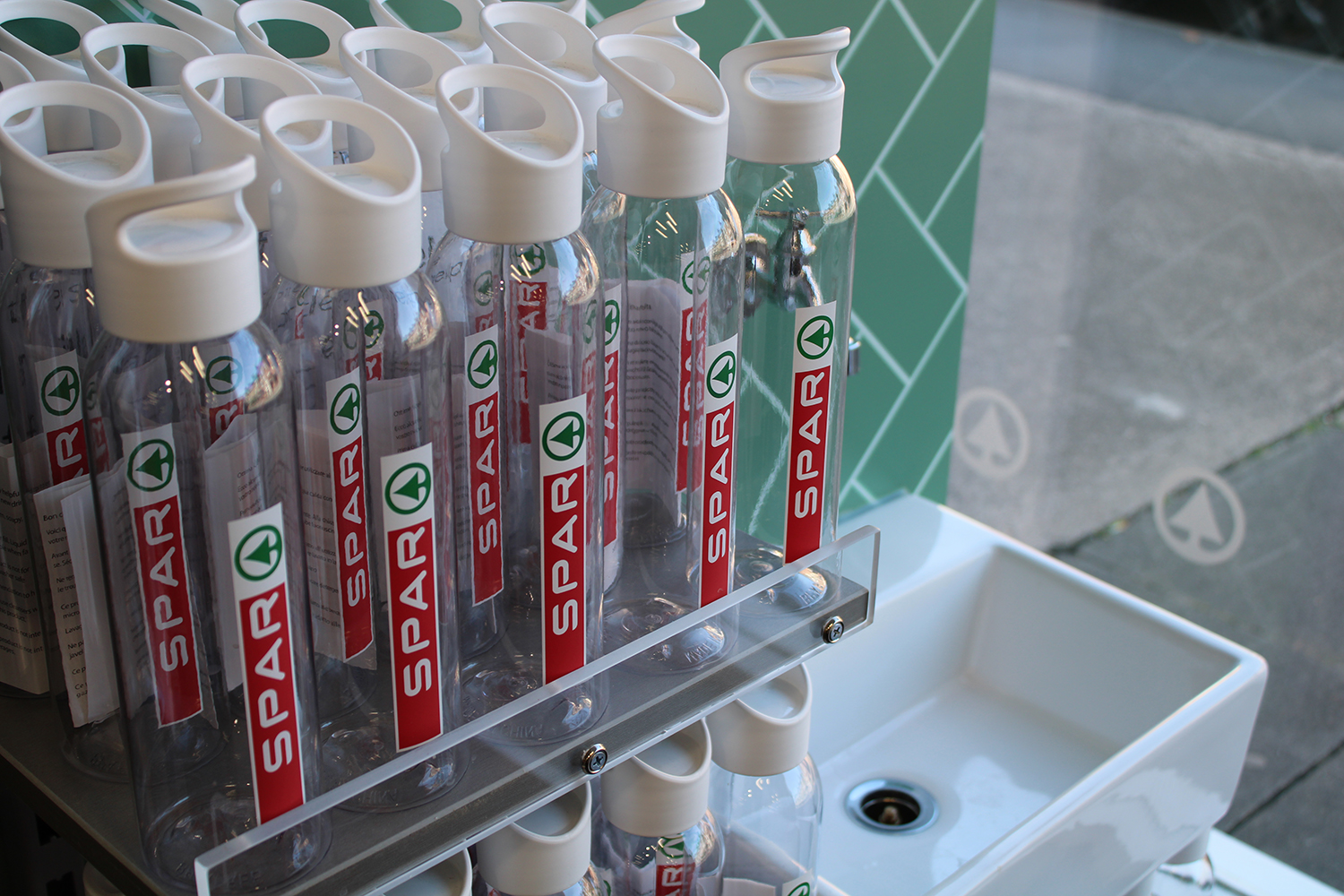 James Hall & Co. are delighted to be trialling a new in-store sustainability concept, in an effort to encourage customers to reduce their single use plastic consumption.
SPAR G&E Murgatroyd Lowther Street, which is one of James Hall & Co.'s company owned stores in York, is trialling the initiative, having had an in-store water tap installed at the back of the store for customers to access free water.
The installation also features a display unit for SPAR branded water bottles, allowing customers to purchase a SPAR bottle for £2.99, which they can they re-use for carrying liquids on the go.
New data from Recycle Now shows that the number of plastic bottles evading recycling could reach a staggering 29 billion by 2020.
Peter Drayton, Store Manager at SPAR Lowther Street said: "Reducing plastic is such a hot topic at the moment and we are delighted to be able to run this trial, enabling customers to access free water and reduce their single use plastic consumption.
"The store is located in an area popular with students and we know that sustainability and recycling are very important issues within their community. We have had a really positive response from customers coming into the store and hope that the installation will encourage others to make changes to their shopping habits, such as avoiding other single use plastic products such as coffee cups."
Julie McAulay, Company Stores Director at James Hall & Co. said: "We are thrilled to be able to offer this facility to residents surrounding SPAR Lowther Street.
"SPAR have committed to eliminating SPAR own brand black plastic by 2020 and single use plastic by 2025, ensuring an average of 35% recycled content is used within our plastic packaging by 2025 and that all plastic packaging is reusable, recyclable or compostable by 2025."
Julie added: "As a retailer, employer and wholesaler, we are committed to implementing sustainability schemes where possible, and this initiative complements our latest in-store sustainability scheme, SPAR branded reusable shoppers made from recycled plastic bottles. As an employer, we have also handed out over 1000 reusable water bottles to encourage staff to reduce their single use plastic consumption."
The SPAR branded re-useable bottles carry 650ml of water and are priced at £2.99.