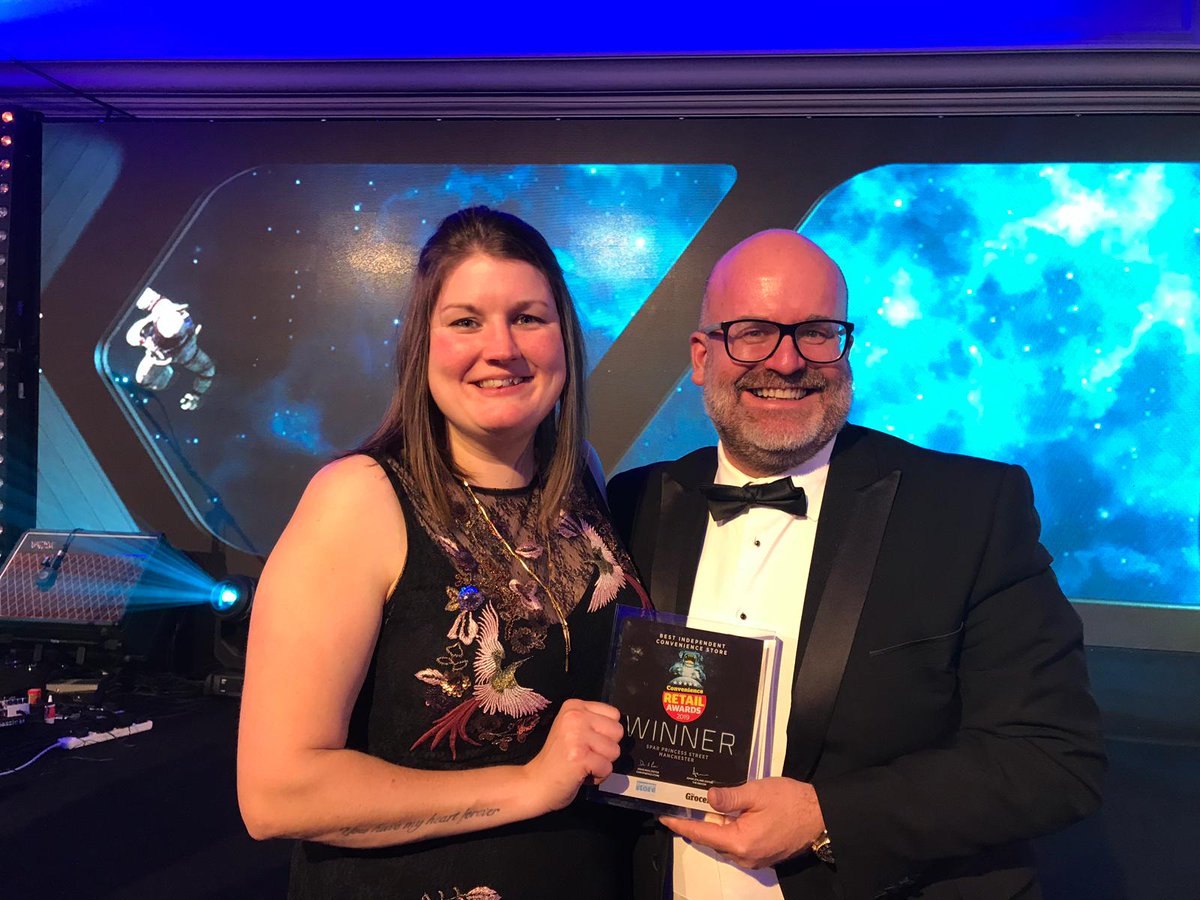 Local business owner and SPAR retailer, Paul Stone has been selected for a top industry award, picking up Best Independent Store at this year's Convenience Retail Awards.
Recognised for his store SPAR Princess Street in Manchester City Centre, this award also marks a special anniversary as it is 25 years since Paul launched 24 hour opening times across his SPAR retail portfolio.
Paul said: "When we first opened at No 2 Oxford Road in 1994, it was our first SPAR store in the city centre and because the area was so busy we decided to trade 24 hours a day. It was a huge decision for us back then and we have never looked back."
"The retail market is an ever-changing industry and I believe, as a retailer, you have to be innovative and prepared to take risks. That risk has helped the business go from strength to strength and we now have six 24 hour SPARs across the city centre, welcoming an average of 65,000 customers per week."
Paul is no stranger to taking home national awards having been awarded six over the past five years including Best Independent Convenience Store at the 2015 Convenience Retail Awards and Best Independent Retailer at the 2016 Retail Industry Awards. Not afraid of thinking outside of the box, Paul launched his own independent coffee brand, Cheeky Coffee in 2012.
Paul added: "Cheeky Coffee has been a great success and has allowed us more control over pricing and in store special offers, which our customers love. We have also been working with Deliveroo and Uber Eats for the past three years and regularly review our range offering to serve Manchester city centre's diverse community.
"To offer the best range possible, we produce our own protein pots, sandwiches and salads, and have extended our local, vegan and vegetarian and Chinese grocery range."
Over the past eight years, Paul's stores have raised over £30,000 for local cancer research charity, Kindscan as well as supporting SPAR UK's charity champion Marie Curie and Manchester Pride.
In what was a highly successful night for SPAR UK, the symbol group picked up a tremendous 8 out of the 20 available awards at the Convenience Retail Awards and SPAR was well represented throughout the evening with a large number of finalists competing in each category.
James Hall & Co. finalists included:
SPAR G&E Warton – Best New Store
SPAR Princess Street – Best Customer Service
SPAR Princess Street – Excellence In Impulse
Paul Stone – Independent Retailer Of The Year