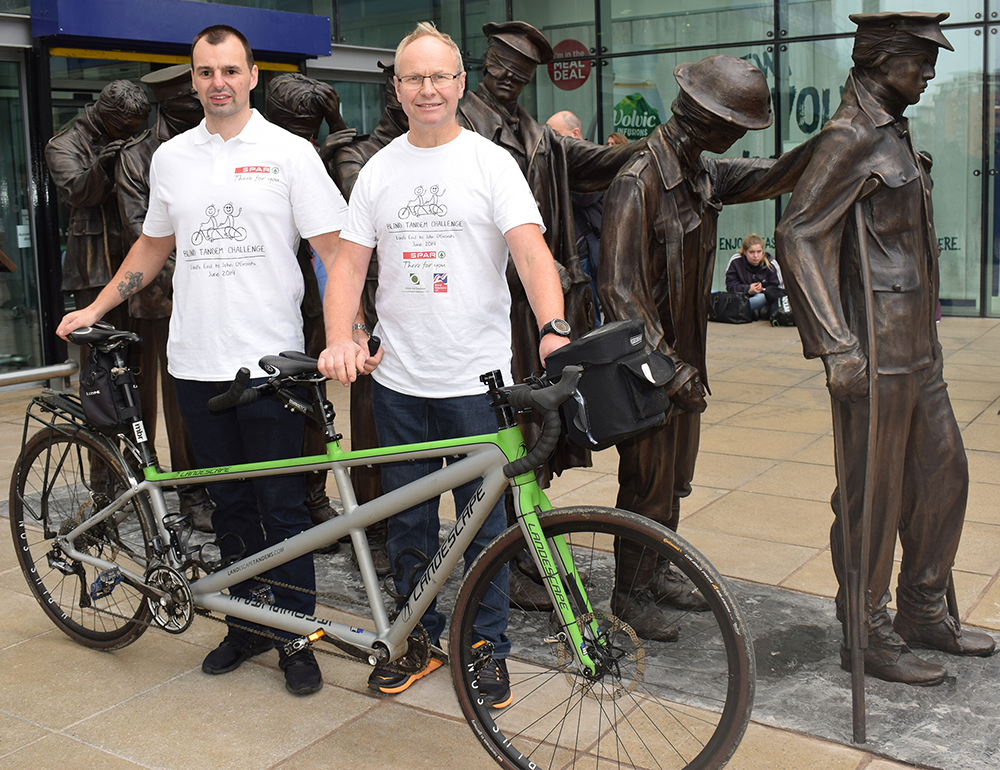 James Hall & Co. are proudly supporting a 1000 mile Blind Tandem Challenge, which will see blind veteran, Craig Lundberg, and cycling partner, Callum Edge, travel from Land's End to John O'Groats.
Raising money for Blind Veterans UK and Vision Aid Overseas, Craig 'Freddie' Lundberg, a former Corporal in the Duke of Lancaster's Regiment, will set off on the long journey with sighted pilot Callum Edge. The pair will cycle for 10 days in a row, going all the way from Land's End to John O'Groat's.
It's a challenge Craig didn't think he'd ever be able to take on after losing his sight during a rooftop battle in Basra in March 2007.
Craig lost his left eye instantly and his right eye was damaged beyond repair. Incredibly, he tried to continue fighting
He says: "I got up and demanded my rifle, but it had been bent by the force of the blast. My mate got me another rifle and I tried to carry on firing. But I only managed a few steps before I collapsed."
Doctors managed to keep Craig alive but they couldn't save his sight. Craig was flown back to the UK knowing he would never see again. Blind Veterans UK offered him lifelong support, starting with a rehabilitation course at the charity's Brighton centre.
Since then, Blind Veterans UK have supported Craig to continue his recovery and he's now taking on the tandem ride to ensure more blind veterans get the same level of support.
He says: "Blind Veterans UK was always there for me, whenever I needed them. It's my turn to give something back."
As well as raising money for Blind Veterans UK, Craig, Callum and the rest of the team will also be supporting the charity Vision Aid Overseas.
The team have been supported by the leading convenience store group in the UK, SPAR, to allow them to take on the challenge. They will continue to be supported by SPAR throughout the journey as they make regular stops at stores each day of the ride.
The journey will take place over 9 days and the team will stop at…
| | | |
| --- | --- | --- |
| | Tuesday 11 June | SPAR Bodmin PL31 1NR |
| | Wednesday 12 June | SPAR Lapford Cross, EX17 6QT |
| | Thursday 13 June | SPAR Bulwark Road, NP16 5JN |
| | Friday 14 June | SPAR Ludlow SY8 1AS |
| | Saturday 15 June | SPAR Bluebell Way, PR2 5PZ |
| | Sunday 16 June | SPAR Troutbeck Bridge LH23 1HS |
| | Monday 17 June | SPAR Nellfield 90 Lanark Road , ML8 5PG |
| | Tuesday 18 June | SPAR Stanley, PH1 4LU |
| | Wednesday 19 June | SPAR Carrbridge, PH23 3AS |
| | Thursday 20 June | SPAR Helmsdale KW8 6JA |