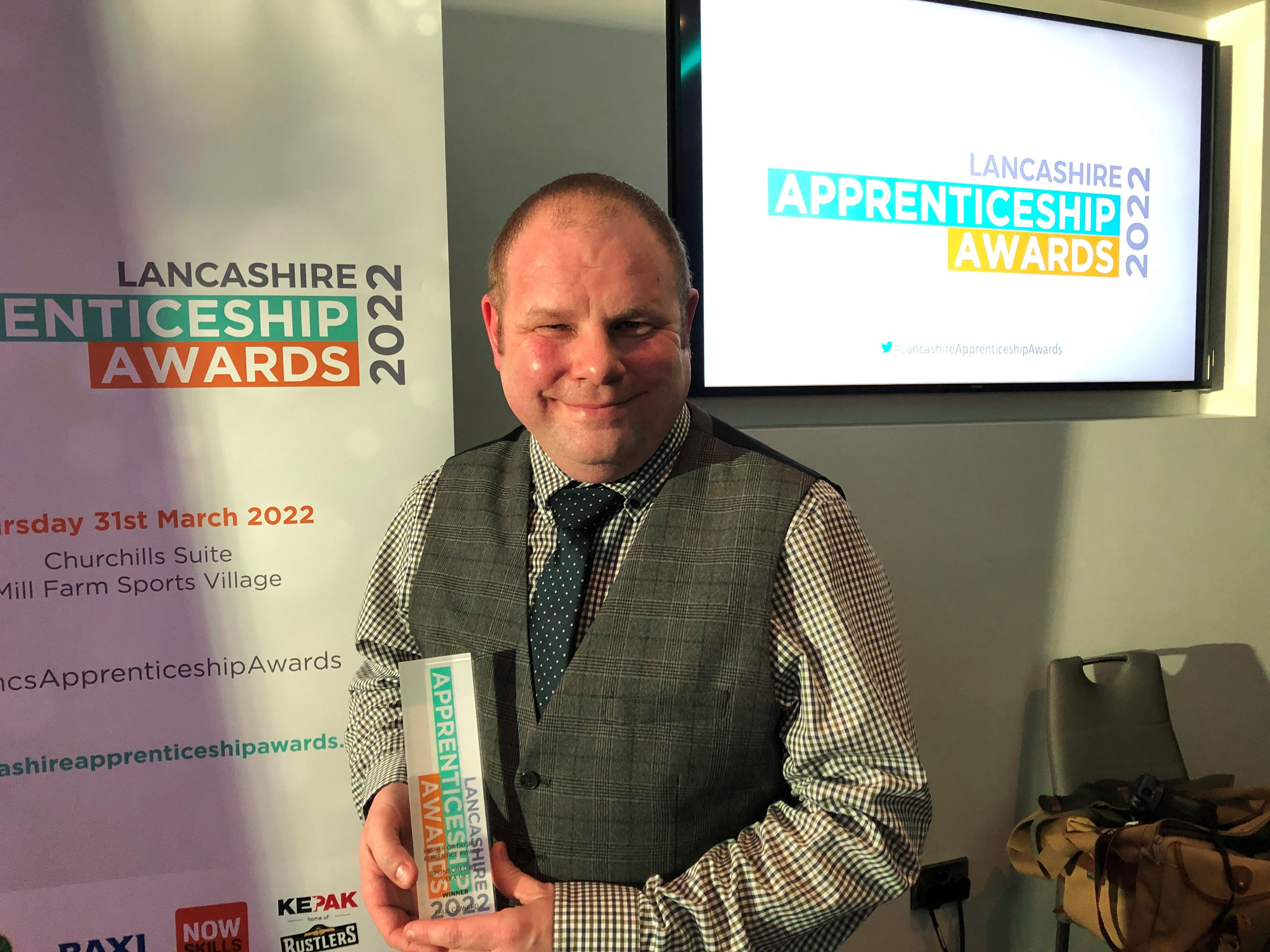 A Health and Safety Officer at James Hall & Co. Ltd has been named as an Apprentice of the Year at the Lancashire Apprenticeship Awards 2022.
Paul Coward, 47, was crowned winner of the Higher or Degree Apprentice of the Year category at a highly competitive celebratory finale held at Mill Farm Sports Village on Thursday evening.
Paul says he is "extremely happy" to win the award and recently completed his Level 5 Operations Manager Apprenticeship with Distinction.
He was one of a trio of James Hall & Co. Ltd employees shortlisted for the Lancashire Apprenticeship Awards 2022. Fellow finalists from the company were Rachael Hart, Warehouse Training Coordinator, who was shortlisted in the same category as Paul, and Ashley Mercer, a Maintenance Supervisor, who was in the final in the Intermediate Apprentice of the Year category.
Paul said: "I feel extremely happy to receive recognition for my work. I've worked with various operational managers who have helped me develop and grow at James Hall & Co. Ltd, and I've also had fantastic support from the company apprenticeship provider Penshaw View.
"I didn't achieve very well at school and found that though I had the knowledge, I seemed to freeze and go blank in exam conditions. Through the blended learning and guidance in apprenticeships, you can display and discuss, show what you know, and how you know it. I think this is a better demonstration of you as a person and the ability that you have."
Paul began his career with James Hall & Co. Ltd on the production line in food manufacturing 12 years ago, before moving into the training team, and latterly health and safety.
His wealth of background knowledge of how the food manufacturing department operates means he is one of the best placed employees in the business to be able to diligently carry out health and safety audits.
During the pandemic, Paul oversaw testing procedures were meticulously followed at the food manufacturing site at James Hall & Co.'s Ltd main depot in Preston, and at its other food businesses Clayton Park Bakery in Accrington and Fazila Foods in Bolton.
For the project part of his apprenticeship, he developed a health and safety portal for all food manufacturing areas, improving the access for managers across the business to key documents. The portal also acts as an alert for when assessments need reviewing in line with legal requirements.
Paul added: "I started working for James Hall & Co. Ltd more than a decade ago in food production after being made redundant from being an NVQ Assessor. I have worked my way up through the company to my current position, developing through opportunities the company have provided for me and through my own determination to provide for my family.
"I started this course as I was looking to push myself to learn and grow, and it has enabled me to achieve that. I have always wanted to be able to learn and then onwardly aid others to learn, develop and grow themselves, as that is something I like to do."
Jayne Morgan, Head of Health and Safety at James Hall & Co. Ltd, said: "Paul joined the Health and Safety department during the pandemic, which was a very challenging period to begin a new role, as our department had to be extremely reactive to ever-changing guidance. Paul took to the position quickly and has been a great strength to the business during the last two years.
"His skillset has really flourished through his apprenticeship, and this includes his communication and time management which have improved tremendously. Paul also now thinks more holistically about the business and the long-term impact of any actions and plans that he does as an individual or he advises management on, helping him to reach the best decision. He is very deserving of this apprenticeship award."
If you are interested in a career at James Hall & Co. Ltd, please visit the careers area of the website here for all the latest vacancies.
You can find out more information about James Hall & Co. Ltd at www.jameshall.co.uk.