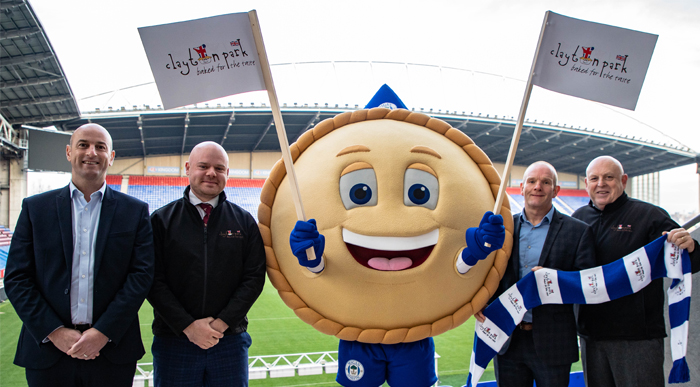 James Hall & Co.'s company owned bakery, Clayton Park, has secured an exciting new partnership with Wigan Athletic Football Club to provide DW Stadium with their mouth-watering pies for the 2019-20 season.
Wigan Athletic's Head of Business Development and Customer Experience, Jonty Castle, said: "Clayton Park's award-winning selection of products are a brilliant addition to the DW Stadium's catering operation.
"A North-West business that has a history of collecting awards for the quality of its products, we feel Clayton Park's passion for their work fits in perfectly with the ethos of our continued development in our off the field operations."
Clayton Park – who are also signing up as the sponsor of our famous mascot Crusty The Pie – have been providing award-winning pies and other baked goods since 1995, supplying  sporting stadia across the North West, including Liverpool FC's Anfield and Everton FC's Goodison Park.
Barry Thomas, Managing Director, at Clayton Park Bakery, added: "We are pleased to add Wigan Athletic and the DW Stadium to our growing list of sports clients, in particularly in the football arena.
"We have partnerships with clubs all over the North West and as a bakery based in Accrington we were delighted a forward-thinking club like Wigan Athletic wanted to partner with us."