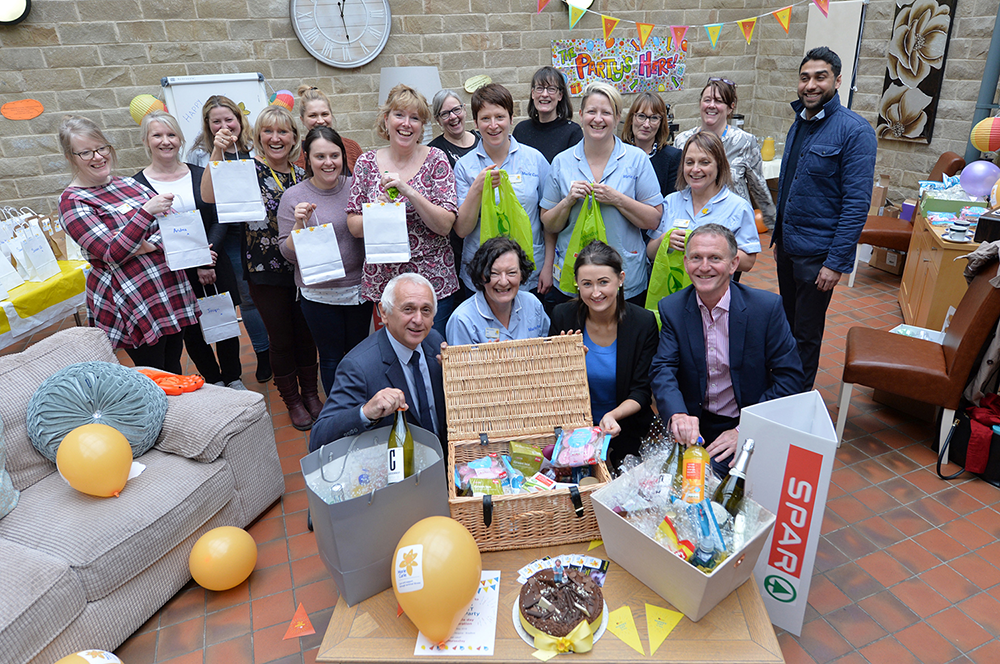 James Hall & Co have delivered hundreds of treats to the Marie Curie Hospice, Bradford to say a personal thank you to its staff in celebration of International Nurses Day on Sunday 12th May.
Independent SPAR retailers Rocky Leach and Ay and Y Patel, who both own SPAR stores within the Bradford area visited the hospice on Maudsley Street to hand deliver hampers of goodies such as SPAR branded tea, coffee and biscuits to keep hospice staff fuelled during typically busy shifts. The hampers also included luxury items including prosecco, cup-cakes and cream fudge to help hospice staff celebrate International Nurses Day.
International Nurses Day takes place this Sunday (12th May) – coinciding with Florence Nightingale's birthday – which sees nurses across the world unite in celebrations.    
Nicola Denbow, Lead Nurse at the Marie Curie Hospice, Bradford, said: "It's such a lovely gesture from SPAR to gift us all these goodies. Our job can be very demanding, both emotionally and physically, so every cup of tea or coffee, and a biscuit shared with a colleague helps.
"I'd like to thank SPAR for their generosity – all my Nursing colleagues are massively grateful too. They've certainly made this the best International Nurse's Day, thank you SPAR!"
Rocky Leach, owner of SPAR Chellow Heights Service Station in Heaton, said: "It is a real pleasure to be able to say thank you in person to the nurses at the Marie Curie Hospice, Bradford.
"James Hall & Co and the SPAR stores across the North of England have worked with Marie Curie since March 2017, raising money through in-store activities and sponsored fundraising events. SPAR customers also help to support Marie Curie when they purchase a range of SPAR branded products, which automatically donate a percentage to the charity. These products include sandwiches, daffodils, tea bags and triple chocolate cookies.
"So many families are affected by terminal illness and Marie Curie help to support the whole family – International Nurses Day seemed the perfect opportunity to say thank you and we are really proud to be able to support them."
Tom Heron, Senior Partnership Manager at Marie Curie, said: "SPAR's support for Marie Curie has been outstanding throughout our partnership and this very generous donation of items is a continuation of that.
"These items will help our nurses celebrate the fantastic work they do while also going a long way to supporting them deliver the best care possible for people living with a terminal illness and their families."
In January 2019, SPAR announced that they had passed the £1 million mark in funds raised for Marie Curie – the equivalent of 50,000 hours of expert care from Marie Curie Nurses.
James Hall & Co are now planning to further support Marie Curie by encouraging staff and customers to host Blooming Great Tea Parties with friends, family and colleagues. To find out more information about SPAR's support for Marie Curie, please visit www.spar.co.uk/marie-curie