Bury Tandem Club Gearing Up For Stronger Future Following From £2,000 SPAR Grant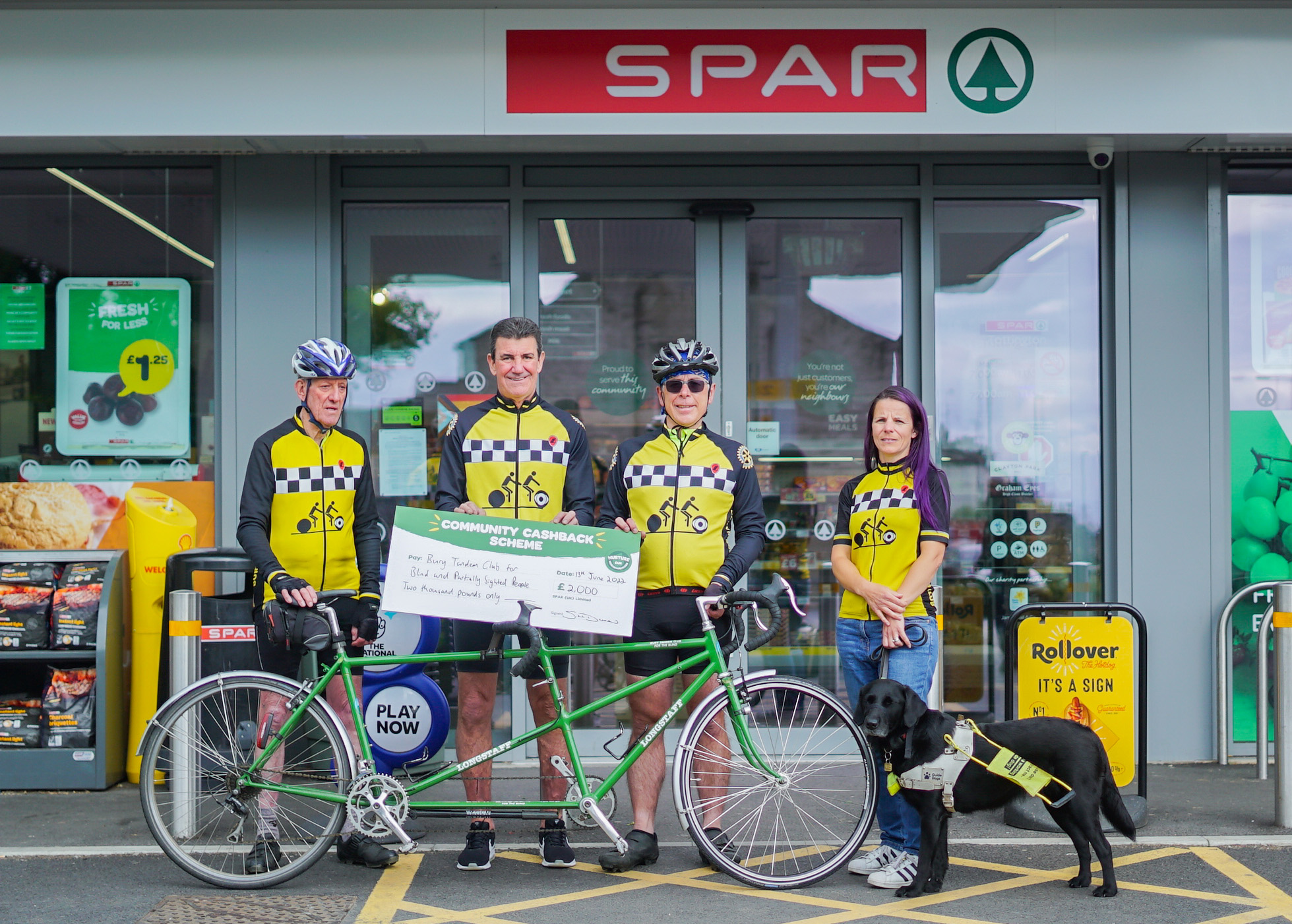 Members of Bury Tandem Club for Blind and Partially Sighted People are gearing up for a stronger future after receiving a £2,000 grant from SPAR UK.
Based in Tottington, the club and registered charity allows visually impaired cyclists to continue enjoying the sport they love.
Club members are based right across Greater Manchester area, and the membership has an age range from 38 to 83.
The Community Cashback initiative was launched by SPAR in April and offered 30 grant prizes through SPAR stores across the UK with the aim of providing funding to local voluntary or community organisations and charities who need it most.
In the North of England alone, there were almost 1,300 applications for funding, with just six prizes available for the region ranging from £10,000 down to £1,000.
Derek Pritchard, who founded Bury Tandem Club for Blind and Partially Sighted People 38 years ago, said: "We're very happy to have received £2,000 from SPAR and our local store in Tottington where we applied for the grant is just around the corner from our workshop.
"The club is truly valued by its members who enjoy riding to keep fit for their physical and mental health. Some live alone and really struggle to get out and about, so a Sunday ride with one of our volunteers really is a lifeline.
"The money will make a real difference and will go to our running costs, including parts and maintenance of the 18 tandems and one triple tandem we have."
Tom Murphy, Marketing Manager at James Hall & Co. Ltd, SPAR UK's primary wholesaler and distributor for Northern England, said: "SPAR believes in nurturing our neighbourhoods and supporting the communities we serve. One way we are helping to do this is by giving back to local organisations through our Community Cashback scheme.
"We know many small charities have struggled for vital funding throughout the pandemic, and when judging the applications, Bury Tandem Club for Blind and Partially Sighted People really pulled on the heart strings. We're more than happy to support this deserving cause."
Five other organisations across the North of England have received grant funding through the Community Cashback initiative. They are Northumbria Blood Bikes, Bolton North East Wildlife Trail, The Sensory Spot CIC in Hartlepool, Bacup Pride, and St Cuthbert's Community Gardeners in Catterick.