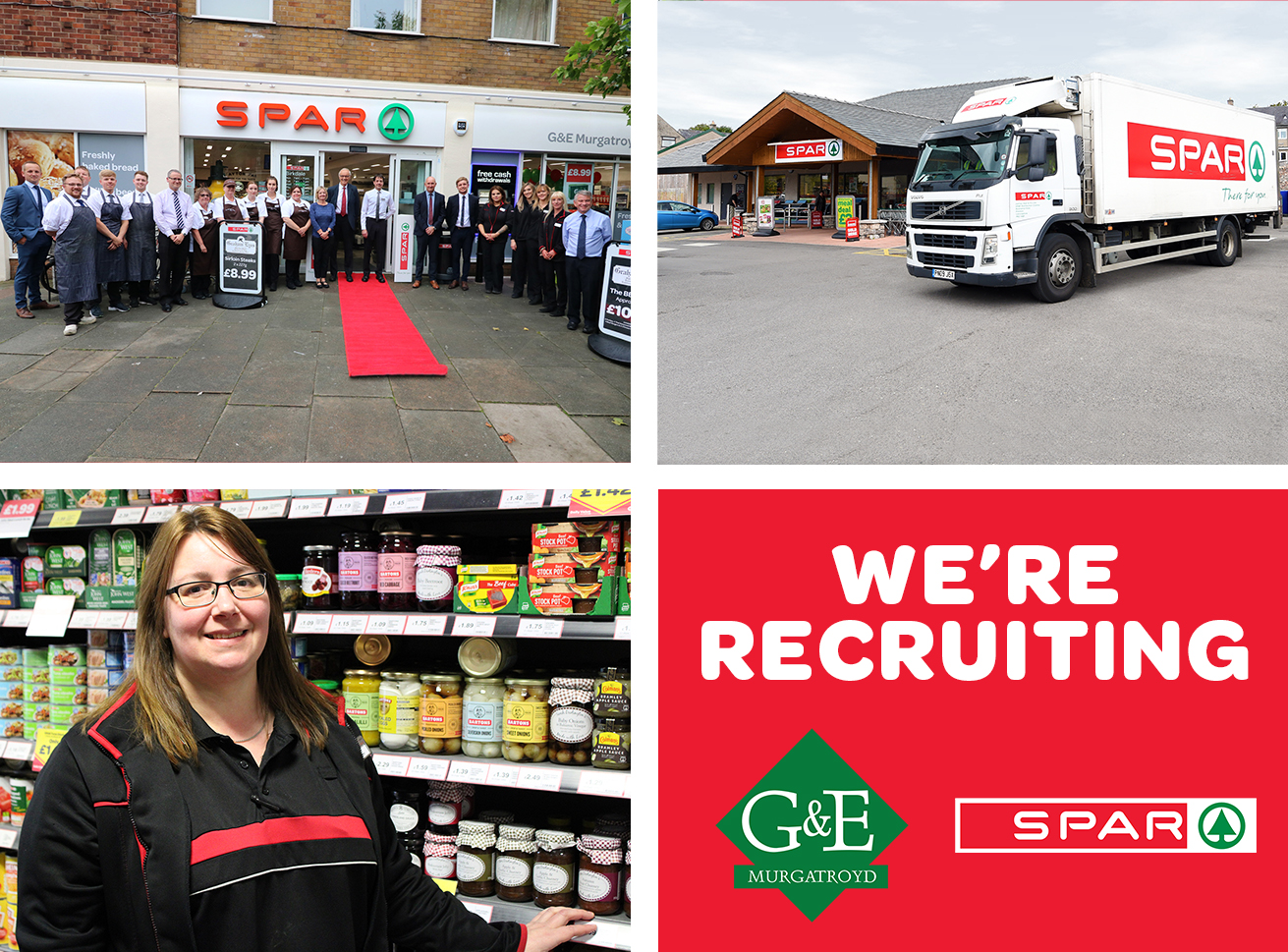 SPAR G & E Murgatroyd need your help to continue delivering essential services to our customers during this difficult time.
We have immediate temporary Retail Assistant vacancies in many of our stores for those in our community whose employment or has been affected by the Coronavirus pandemic.
If you can work flexibly, deliver exceptional customer service and ideally have experience in the Retail or Hospitality sectors then please email recruitment@jameshall.co.uk detailing your experience for the role, your availability, contact telephone number and state which SPAR stores you could work at in the subject line of the email.
Together we can serve the community!
SPAR G&E Murgatroyd stores are:
| | | | | | |
| --- | --- | --- | --- | --- | --- |
| GEM Boroughbridge | 131-135 High Street | | Boroughbridge | Yorkshire | YO51 9AW |
| GEM Armthorpe | 49 Doncaster Road | Armthorpe | Doncaster | South Yorkshire | DN3 2BU |
| GEM Longtown | Netherby Street | | Longtown | Cumbria | CA6 5SA |
| GEM Bedlington | 37 Station Road | | Bedlington | Northumberland | NE22 5PP |
| GEM Hutton Way | 12 Hutton Way | | Carlisle | Cumbria | CA2 7TH |
| GEM Burrowgate | 36-40 Burrowgate | | Penrith | Cumbria | CA11 7TA |
| GEM Monkseaton | Corner House | Monkseaton | Whitley Bay | Tyne & Wear | NE25 8AQ |
| GEM Shiremoor | 28 Park Lane | | Shiremoor | Tyne & Wear | NE27 0TH |
| GEM Chester Rd | 161-165a Chester Road | | | Sunderland | SR4 7HS |
| GEM Seaton Carew | 50 Elizabeth Way | Seaton Carew | Hartlepool | Cleveland | TS25 2AX |
| GEM Falsgrave | 97-107 Falsgrave Road | | Scarborough | North Yorkshire | YO12 5EG |
| GEM Lanchester | 10 Front Street | | Lanchester | Durham | DH7 0ER |
| GEM Wolsingham | 2 Market Place | | Wolsingham | Bishop Auckland | DL13 3AF |
| GEM Acklam Rd | 275a Acklam Road | | | Middlesborough | TS5 7BP |
| GEM Nunthorpe | 99 Guisborough Road | | Nunthorpe | Middlesborough | TS7 0JS |
| GEM Appleby | 8 Boroughgate | | Appleby | Northumberland | CA16 6XB |
| GEM Lamb Street | 36 Lamb Street | Upperby | Carlisle | Cumbria | CA2 4NS |
| GEM North Seaton | 2- 4 Meadowfield | North Seaton | Ashington | | NE63 9TR |
| GEM Brampton | Main Street | | Brampton | Cumbria | CA8 1SB |
| GEM Burnley | 520 Brunshaw Road | Pike Hill | Burnley | Lancashire | BB10 3JU |
| GEM Bentham | Main Street | Bentham | Lancaster | | LA2 7HJ |
| GEM Market Place | 28 Market Place | | Brampton | Cumbria | CA8 1RW |
| GEM Sleights | 83 Coach Road | Sleights | Whitby | | YO22 5EH |
| GEM Petterill Bank | 10 Petteril Bank Road | | Carlisle | Cumbria | CA1 3AH |
| GEM Catterick | 1-2 Hildyard Row | Catterick | Garrison | Northumberland | DL9 4DU |
| GEM Haworth | Station Road | | Haworth | Northumberland | BD22 8NJ |
| GEM Birkdale | 23 Liverpool Road | Birkdale | Southport | | PR8 4AG |
| GEM Kirbymoorside | 22 Market Place | | Kirbymoorside | Yorkshire | YO62 6DA |
| GEM Wigton | 40 King Street | | Wigton | Cumbria | CA7 9EJ |
| GEM Maryport | Curzon Street | | Maryport | Cumbria | CA15 6LW |
| GEM Handforth | 118 Wilmslow Road | | Handforth | Cheshire | SK9 3LQ |
| GEM Workington | 126 Westfield Drive | Moorclose | Workington | Cumbria | CA14 3RW |
| GEM Aspatria | 16 Queen Street | Aspatria | Wigton | Cumbria | CA7 3AR |
| GEM Whalley | 9 George Street | Whalley   | Blackburn | Lancashire | BB7 9TH |
| GEM Scawthorpe | 151 Petersgate | Scawthorpe | Doncaster | South Yorkshire | DN5 9JW |
| GEM Whitehaven | Richmond Hill Road | Hensingham | Whitehaven | Cumbria | CA28 8SU |
| GEM Padiham | 468 – 470 Padiham Road | Burnley | | Lancashire | BB12 6TD |
| GEM Bispham Road | 223 Bispham Road | Bispham | Blackpool | Lancashire | FY2 0NG |
| GEM Wincham | Linnards Lane | Wincham | Northwich | Cheshire | CW9 6ED |
| GEM Rudheath | ThreeWays Garage | King Street | Rudheath | Northwich, Cheshire | CW9 7RT |
| GEM Rawtenstall | Holmefield Garage | Burnley Road | Rawtenstall | Lancashire | BB4 8EW |
| GEM Leyland | 343 Leyland Lane | Leyland | Preston | Lancashire | PR25 1UP |
| GEM Fulwood | 1 Black Bull Lane | Fulwood | Preston | Lancashire | PR2 3PT |
| GEM Cambridge Road | 115 Cambridge Road | Churchtown | Southport | | PR9 9SB |
| GEM Trimdon Ave | 128 Trimdon Avenue | Acklam | Middlesborough | Cleveland | TS5 8SB |
| GEM Ryhope Road | Old Mill Garage | Ryhope Road | Sunderland | | SR2 7ST |
| GEM Poulton | 90-94 Garstang Road East | Poulton Le Fylde | | Lancashire | FY6 7EP |
| GEM Blakelaw | 30 Moulton Court | Blakelaw | Newcastle Upon Tyne | | NE5 3RS |
| GEM Barnton | Runcorn Rd | Barnton | Northwich | Cheshire | CW8 4HX |
| GEM Stakesby | Stakesby Garage | Castle Road | Stakesby | Whitby | YO21 3LG |
| GEM Troutbeck | Troutbeck Bridge Services | Troutbeck Bridge | Windermere | Cumbria | LA23 1HS |
| GEM Accrington | 144-146 Burnley Road | Accrington | | Lancashire | BB5 6DW |
| GEM Newtown Road | 63-69 Newtown Road | | Carlisle | Cumbria | CA2 7JB |
| GEM Tarporley | 115 High Street | Tarporley | | Cheshire | CW6 0AY |
| GEM Davenham | Parkside Garage | London Road | Davenham | Cheshire | CW9 8NA |
| GEM Rochdale | Mount Green Garage | Halifax Road | Rochdale | | OL16 2SQ |
| GEM Kelbrook Road | Kelbook Road Service Station | Barnoldswick | Colne | | BB18 5BX |
| GEM Bigrigg | SPAR Parkhouse Service Station | Bigrigg | Egremont | Cumbria | CA22 2TL |
| GEM Winsford | SPAR Oversquare Garage | Delamere St | Winsford | Cheshire | CW7 2LU |
| GEM Eston | Lodge Service Station | High Street | Eston | Middlesborough | TS6 9LL |
| GEM Bluebell Way | Bluebell Way | Fulwood | | Preston | PR2 5PZ |
| GEM Manor Garage | 13/14 Main Street | East Ayton | Scarborough | North Yorkshire | YO13 9HL |
| GEM West Auckland | The Old Church Hall | Station Road | West Auckland | Bishop, Auckland | DL14 9HE |
| GEM Kitt Green | 228 City Road | Kitt Green | Wigan | Lancashire | WN5 0BE |
| GEM Sandringham Rd | 3-5 Sandringham Road | Walton Le Dale | Preston | Lancashire | PR5 4QN |
| GEM Strand | SPAR Strand Garage | Skipton Road | Barnoldswick | Lancashire | BB18 5EG |
| GEM New Sedbergh | Station Road | Sedbergh | | Cumbria | LA10 5DL |
| GEM Filey | 3 Murray Street | Filey | | | YO14 9DA |
| GEM Alston | Townfoot Garage | Station Road | Alston | Cumbria | CA9 3HY |
| GEM Billingham | High Grange Avenue | Billingham | | Stockton-On-Tees | TS23 3XR |
| GEM Milnthorpe | 13-17 Beetham Road | Milnthorpe | | Cumbria | LA7 7QL |
| GEM Hartlepool | Unit 1, The Powlett | Powlett Road | Hartlepool | | TS24 8NA |
| GEM Leeds Road | 351-357 Leeds Road | | Nelson | Lancashire | BB9 8RP |
| GEM Harington Road | 56 Harington Road | Formby | Liverpool | Merseyside | L37 1NU |
| Patel Gemini | Europa Boulevard | Gemini Business Park | Westbrook | Warrington | WA5 7TY |
| GEM Whitefield | Unit 5 | Ribble Drive | Whitefield | Greater Manchester | M45 8NE |
| GEM Connahs Quay | 1 Golftyn Lane | | Connahs Quay | Deeside | CH5 4BH |
| GEM Derwent Service Station | Derwent S/S | Penrith Road | Keswick | | CA12 4PA |
| GEM High Hill | High Hill Garage | High Hill | Keswick | | CA12 5NY |
| GEM Lovely Lane | Lovely Lane Filling Station | Lovely Lane | Warrington | Cheshire | WA5 1PH |
| GEM Ormskirk | 242 Southport Road | Ormskirk | | Lancashire | L39 1LZ |
| GEM Willaston | 12 Neston Road | | Willaston | Wirral | CH64 2TE |
| GEM Middleton | 62-64 Stanneycliffe Lane | | Middleton | Greater Manchester | M24 2PB |
| GEM Huntington Road | Turner Close | Huntington | York | | YO31 9FD |
| GEM Brockfield | 52-54 Brockfield Park Drive | | Huntington | Yorkshire | YO31 9ER |
| GEM Cadley | 118 Woodplumpton Road | Cadley | Preston | Lancashire | PR2 3TF |
| GEM Davenport | 209 Bramhall Lane | | Stockport | | SK2 6JD |
| GEM Todmorden Road | Todmorden Road | Burnley | | Lancashire | BB11 3EX |
| GEM Knowsley | Gale Road | Knowsley Industrial Estate | Liverpool | Merseyside | L33 7YB |
| GEM Billinge | 1-3 Rainford Road | Billinge | | Lancashire | WN5 7PF |
| GEM Leigh | 262 Firs Lane | Leigh | | Lancashire | WN7 4TT |
| GEM Cheadle | SPAR Store | Councillor Lane | Cheadle | Manchester | SK82JE |
| GEM Lostock Hall | 148 Brownedge Road | Lostock Hall | Preston | Lancashire | PR5 5AE |
| GEM Murton | Church Street | | Murton | Seaham | SR7 9JA |
| GEM Blackbrook | 2 Harrier Road | Black Brook | Warrington | Cheshire | WA2 0WN |
| GEM Old Hall | Frobisher Court | Old Hall Road | Warrington | Cheshire | WA5 9PQ |
| GEM Prescot Road | Prescot Road | | St Helens | Lancashire | WA10 3HG |
| GEM Preston Brook | 2 Bridgewater Grange | Preston Brook | Runcorn | Cheshire | WA7 3AL |
| GEM Risley | 714 Warrington Road | Risley | Warrington | | WA3 6AU |
| GEM Ditchfield Road | 169a Ditchfield Road | | Widnes | Cheshire | WA8 8RF |
| GEM Litherland | 14 Sefton Road | Litherland | | Liverpool | L21 7PG |
| GEM Newton Le Willows | 105 High Street | | Newton Le Willows | Warrington | WA12 9SL |
| GEM Penketh | 1- 3 Honiton Way | Penketh | Warrington | Cheshire | WA5 2EY |
| GEM Roe Lane | SPAR Store | Roe Lane | Southport | Merseyside | PR9 9DR |
| GEM Lowther Street | 133 Lowther Street | | York | North Yorkshire | YO31 7NA |
| GEM Barrowford | Gisburn Road | | Barrowford | Lancashire | BB9 6DT |
| GEM Hutton Cranswick | 41 Main Street | Hutton Cranswick | Driffield | Yorkshire | YO25 9QN |
| GEM Threshfield | Kettlewell Road | Skipton | | North Yorkshire | BD23 5PL |
| GEM Hutton Rudby | 36 Garbutts Lane | Hutton Rudby | | North Yorkshire | TS15 0DL |
| GEM Four Lane Ends | 5 Guisborough Road | Whitby | | North Yorkshire | YO21 1LZ |
| GEM Hazel Grove | 77-87 Arundel Avenue | Hazel Grove | Stockport | | SK7 5LD |
| GEM New Middleton | 231 Hollins Lane | Middleton | | Manchester | M24 5LU |
| GEM Bramley | Broad Lane | | Leeds | South Yorkshire | LS13 2RU |
| GEM Warton | Lytham Road | Warton | Preston | Lancashire | PR4 1AH |
| GEM Nelson | Springbank Garage, Manchester Road | Nelson | | Lancashire | BB9 7AJ |
| GEM High Park | 1-3 High Park | | Southport | Lancashire | PR9 7QP |
| GEM Bedale | Aiskew Garage | Aiskew Road | Bedale | North Yorkshire | DL8 1DD |
| GEM Kirkby Stephen | North Road | | Kirkby Stephen | Cumbria | CA17 4RP |
| GEM Silloth | Solway Street | Silloth | | Cumbria | CA7 4AR |