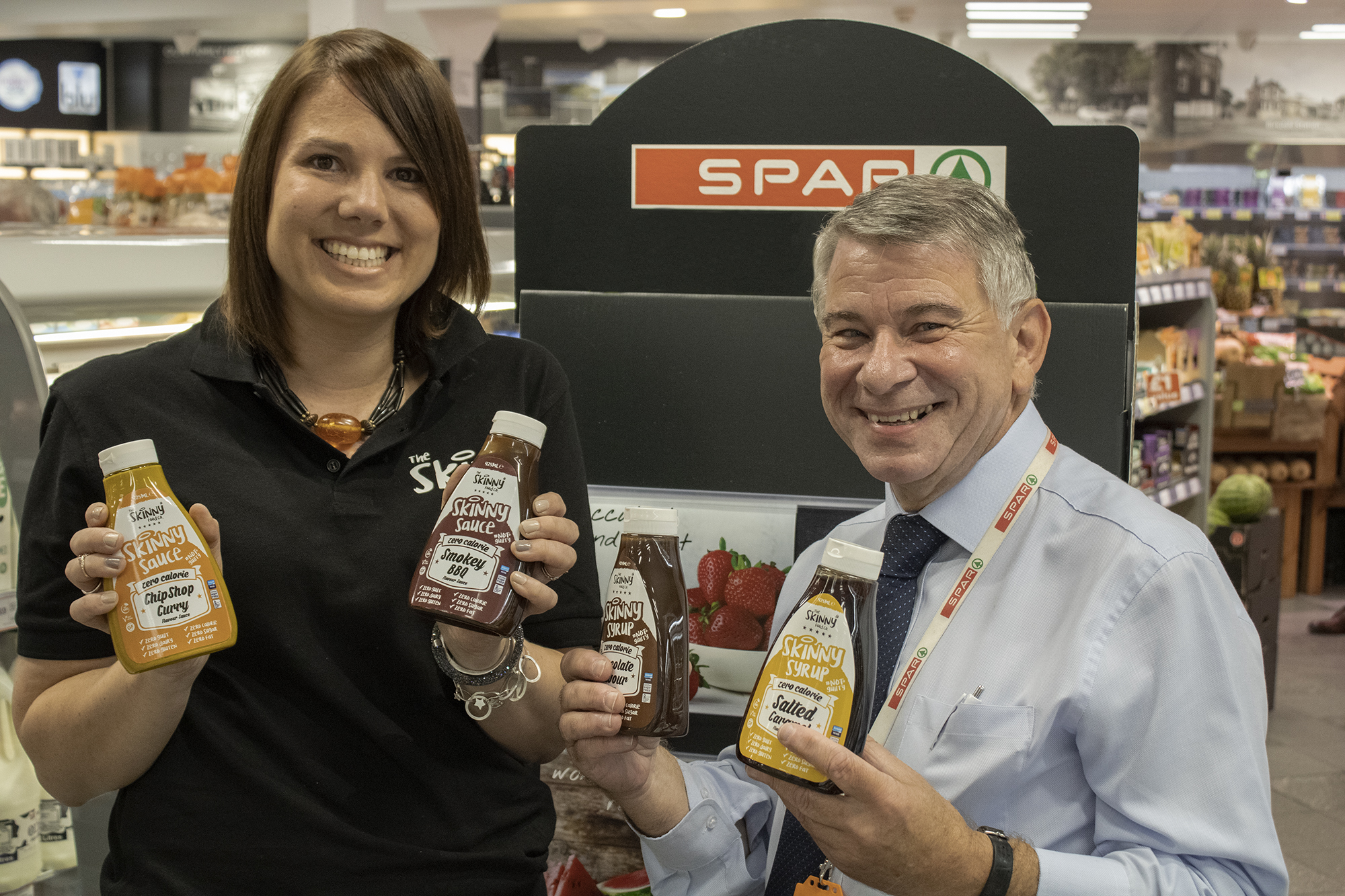 SPAR wholesaler for the North of England, James Hall & Co. are delighted to announce their support of Lancashire start-up and internet sensation, The Skinny Food Co.
Available at 59 SPAR stores across the North of England, SPAR are the first major retailer to stock the company's exciting range of calorie free sauces, having taken the internet by storm within its first year of trading, selling 1 million bottles.
Founded in Chorley in 2018, The Skinny Food Co. provides customers who are watching their sugar or calorie intake with a delicious, guilt free treat in both savoury and sweet flavours, with the range including Skinny chocolate syrup; curry sauce; salted caramel; smokey bbq sauce; white chocolate syrup and milk chocolate bites.
James Whiting, owner of The Skinny Food Co. said: "We are absolutely delighted that SPAR have given us the opportunity to sell our products through a major convenience store, making the range more accessible to customers throughout the North of England.
"Our products have been available to buy on our website and through small independent retailers but SPAR are the first major retailer to stock the range, and we are really excited to see how the partnership develops. All of our sauces are either low calorie or calorie free, with no added sugar and a healthy alternative to sauces that are usually laden with fat, sugar and calories."
James added: "Delicious in smoothies and coffees, with greek yoghurt and fruit or drizzled across a stack of breakfast pancakes, our products have proved a hit with thousands of consumers across the country, especially those trying to lose weight, manage medical conditions such as diabetes, or those just trying to avoid refined sugar."
Julie McAulay, Company Stores Director at James Hall & Co. said: "James Hall & Co. are thrilled to be able to support The Skinny Food Co. especially as a young and growing Lancashire business, and one that promotes cleaner and healthier lifestyles."
Due to the fast growing pace of the business, The Skinny Food Co. have now relocated to Nottingham in order to access quadruple the amount of warehouse space they first started in, also doubling the size of their team.
You can find The Skinny Food Co. range in the following stores: 
| | | | |
| --- | --- | --- | --- |
| Store Name | Address | Post code | Area |
| SPAR Accrington | 144-146 Burnley Road | BB5 6DW | Accrington |
| SPAR ALSTON | Townfoot Garage | CA9 3HY | Cumbria |
| SPAR Appley Bridge | 39-41 Woodnook Road | WN6 9JR | Wigan |
| SPAR Barrowford | Gisburn Road | BB9 6DT | Barrowford |
| SPAR Bentham | Bentham | LA2 7HJ | Lancaster |
| SPAR Birkdale | 23 Liverpool Road | PR8 4AG | Southport |
| SPAR Bispham | 223 Bispham Road | FY2 0NG | Bispham |
| SPAR Blakelaw | 30 Moulton Court | NE5 3RS | Newcastle |
| SPAR Burnley | 520 Brunshaw Road | BB10 3JU | Burnley |
| SPAR Cadley | 118 Woodplumpton Road | PR2 3TF | Cadley |
| SPAR Chester Road | 161-165a Chester Road | SR4 7HS | Sunderland |
| SPAR Cleary Hindley | 25 Borsdane Avenue | WN2 3QN | Wigan |
| SPAR Darin Hambleton | Shard Lane | FY6 9BX | Poulton-le-Fylde |
| SPAR Darin Thornton | 159-161 Lawsons Road | FY5 4PJ | Thornton-Cleveleys |
| SPAR Follen Ambleside | Compston Road | LA22 9DR | Ambleside |
| SPAR FOLLEN BROCK | Claughton Garage | PR3 0GA | Preston |
| SPAR FOLLEN FORTON | Lancaster New Road | PR3 1AD | Preston |
| SPAR FOLLEN Ribchester | 32-34 Church Street | PR3 3YE | Ribchester |
| SPAR Formby | 1 Green Lane | L37 7DY | Formby |
| SPAR GOSNAY BROTTON | 82 High Street | TS12 2PX | Brotton |
| SPAR Grange | Main Street | LA11 6BA | Grange-over-sands |
| SPAR Handforth | 118 Wilmslow Road | SK9 3LQ | Cheshire |
| SPAR Haworth | Station Road | BD22 8NJ | Haworth |
| SPAR Hazel Grove | 77-87 Arundel Avenue | SK7 5LD | Stockport |
| SPAR Heskin | Wood Lane | PR7 5NP | Chorley |
| SPAR High Park | 1-3 High Park | PR9 7QP | Southport |
| SPAR Hutton Way | 12 Hutton Way | CA2 7TH | Carlisle |
| SPAR KELLETT WALTON PARK | 1 Millwood Road | PR5 5QS | Preston |
| SPAR Kitt Green | 228 City Road | WN5 0BE | Wigan |
| SPAR Lanchester | 10 Front Street | DH7 0ER | Lanchester |
| SPAR Longtown | Netherby Street | CA6 5SA | Longtown |
| SPAR Market Place | 28 Market Place | CA8 1RW | Carlisle |
| SPAR Maryport | Maryport | CA15 6LW | Cumbria |
| SPAR MASTERS OSWALDTWISTLE | 97-103 Thwaites Road | BB5 4QG | Accrington |
| SPAR Milnthorpe | 13-17 Beetham Road | LA7 7QL | Milnthorpe |
| SPAR Monkseaton | Monkseaton | NE25 8AQ | Whitley Bay |
| SPAR Murton | Church Street | SR7 9JA | Seaham |
| SPAR Padiham Rd | 468 – 470 Padiham Road | BB12 6TD | Burnley |
| SPAR Penwortham | 40 Liverpool Road | PR1 0DQ | Preston |
| SPAR PROCTER.T ASPULL | 3 Scot Lane | WN2 1YX | Wigan |
| SPAR Rawtenstall | Holmefield Garage | BB4 8EW | Rawtenstall |
| SPAR Rochdale | Mount Green Garage | OL16 2SQ | Rochdale |
| SPAR Roe Lane | SPAR Store | PR9 9DR | Southport |
| SPAR Ryhope Road | Old Mill Garage | SR2 7ST | Sunderland |
| SPAR Shiremoor | 28 Park Lane | NE27 0TH | Shiremoor |
| SPAR Stakesby | Stakesby Garage | YO21 3LG | Whitby |
| SPAR Stone, City Tower | Unit F1 City Tower | M1 4AJ | Manchester |
| SPAR Stone, Oxford Road | 2 Oxford Road | M1 5QA | Manchester |
| SPAR Stone, Princess Street | 88 Princess Street | M1 6NG | Manchester |
| SPAR Tarleton | 12-16 Mark Square | PR4 6TU | Preston |
| SPAR Tarporley | 115 High Street | CW6 0AY | Taporley |
| SPAR THOMPSON LANGHO | 1a Portland Road | BB6 8EL | Langho |
| SPAR THRESHFIELD | Kettlewell Road | BD23 5PL | Skipton |
| SPAR Todmorden Rd | Todmorden Road | BB11 3EX | Burnley |
| SPAR Walmer Bridge | 108 Liverpool Old Road | PR4 5GE | Preston |
| SPAR Warton | Lytham Road | PR4 1AH | Warton |
| SPAR West Auckland | The Old Church Hall | DL14 9HE | West Auckland |
| SPAR Whalley | 9 George Street | BB7 9TH | Whalley |
| SPAR Wolsingham | 2 Market Place | DL13 3AF | Bishop Auckland |