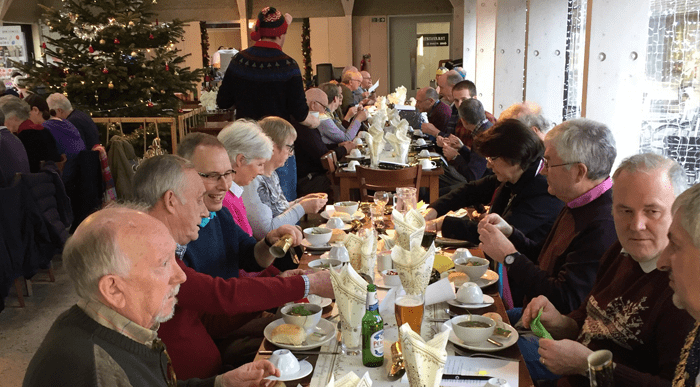 James Hall & Co have provided a three course celebratory Christmas lunch to help say thank you to 100 local volunteers who regularly give their time to help protect wildlife throughout the county.
The Lancashire Wildlife Trust held their volunteers' Christmas lunch at Brockholes Nature Reserve, which is located only a few miles from James Hall's distribution centre, Bowland View.
The SPAR UK wholesaler for the North of England treated volunteers to a three course meal consisting of onion soup; roast turkey with all the trimmings (mushroom wellington for vegetarians), followed by Christmas pudding.
Peter Dodding, Sales and Marketing Director at James Hall said: "James Hall's distribution centre is located very closely to Brockholes Nature Reserve and many of our staff and SPAR retailers enjoy visiting the reserve with their families.
"We were delighted to be able to say thank you to the volunteers and the Lancashire Wildlife Trust for all the fantastic work that they do across the county."
Lancashire Wildlife Trust trustee Stephen Niven said: "Without our volunteers the Wildlife Trust would not be able to protect and conserve our wonderful nature reserves and all the wildlife that lives and grows there."
Stephen added: "We would like to thank James Hall & Co for providing our lovely meal today."
Chief Executive Anne Selby and The Mayor of Preston Councillor Trevor Hart also handed out awards to more than 30 volunteers, acknowledging five years of valuable service to the trust.
The Lancashire Wildlife Trust has 150 volunteers registered at Brockholes and 4,000 across other sites within Lancashire.
The Wildlife Trusts is the largest conservation volunteer organisation in the UK with some 750,000 volunteers regularly giving their time across a variety of roles including scrub clearance, balsam bashing, creating paths and coppicing woodland.
To get involved, visit https://www.lancswt.org.uk/